The new Vijay Sethupathi – Trisha starrer Tamil movie '96' is running successfully while receiving huge appreciation from the audience. Being a fan of Vijay Sethupathi, I already had planned to watch this movie. Yet, as I was not a big fan of romance, I wasn't quite enthusiastic about it. And then a lot of my friends, especially girls, recommended and said that the movie is a must watch. One girl, while talking to me about the film was still sobbing even after she reached back home after watching '96'. So, I really wanted to find out what this movie had to offer. And last week I watched it from the theatre.
'96' is everything that the audience claims it to be. It has a very strong love story, it is fresh and feels genuine. But for a guy who had his schooling at a boys-only school and never had any kind of romance in his life, I felt nothing "magical" about this movie like many of the audience felt about it. Although, I have to admit that '96' is a high-quality movie with a strong script, amazing acting and the director also did a very good job to depict the story in a realistic and refreshing way.
Time travel 'mirage'
Emotional scenes always hit very hard on me. From Malayalam drama movie 'Pavithram' to Hollywood romance movie 'The fault in our stars', my emotional strings were hit very hard and I had cried a river. But it didn't happen with '96' for me. Over expectation is truly a factor. But, I don't think that's just it. What I felt about the movie is a bit different from the general opinion surrounding it. I think, '96' is not a movie for everyone. It can be thoroughly enjoyed only if a person can relate themselves to the story of the film.
'96' is Director's brilliance. I feel that the director magically hypnotised the audience in the first half by giving a glimpse of an exceptional school love story which made the audience to time travel back to the time when they had their first love. And in the second half of the movie, most of the audience were probably still recollecting and cherishing their memories of their school love. But, for those people like me who never had such kind of an experience in life, were still focusing on the movie rather than dreaming about the lost love, and it wasn't very heart touching.
For me, it was just another love story. If I have to say, I have seen better love stories that come under the same genre as '96', like the Sunrise trilogy, which is much better than '96', though I know it's not fair to compare a low budget South Indian movie with a Hollywood movie. But my point is that each movie in the sunrise trilogy inspired every audience in spite of them having to have anything to relate with the story. I mean, even for a person who had never experienced love (the romantic one) in his life would be able to connect completely with those kinds of movies. '96' lacked that impact that the sunrise trilogy has.
Shiva nature of Vijay Sethupathi's character Ram
There is only a minor reference to Shiva in this movie. At the beginning of the film, Ram is seen sitting in a temple and we hear Shiva chants. That's the only direct reference to Shiva in this movie. But I personally feel that the character Ramachandran is depicted as Shiva in the movie. Maybe, Ramachandran doesn't have all the aspects of Lord Shiva, but he definitely has one of the dominant essences in Shiva, which is love. Ramachandran's love resembles Shiva's love.
This piece of Shiva nature in Ramachandran has to be intentional, by the director. He doesn't care about his looks, he's always in an adventure with nature, he respects women in every way, stays a virgin and loves only one woman for his entire life; this is truly a depiction of Shiva's nature of love. And personally, I feel that it's a genuine one as well. There have been many other attempts made by several directors to portray Shiva on the screen, but most of them were disrespectful attempts which never essayed the true form of Shiva. But in '96', even though the makers didn't say that this character is based on Shiva, I think its a respectful and genuine portrayal of one of the Shiva's forms.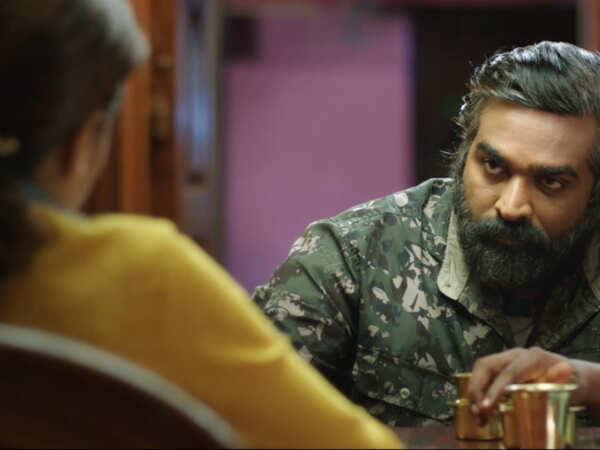 Shiva is someone who is desired by most women. He is the perfect guy; who is loyal, handsome, loving, caring and manly in every way, someone a woman dreams of having in her life. This is quite exactly how women felt about Ram in the movie. It was mostly women audience who got attached to the movie '96'. I think it was due to this Shiva nature of Sethupathi's character that women audience connected to the movie with such passion. And most often, people swap themselves with the characters in the movie while watching them, so obviously, the loss of Janaki felt like their own loss, which means they lost the Shiva in their lives, which got them devastated and made them cry like a baby in the theatres, like one of my friend did.